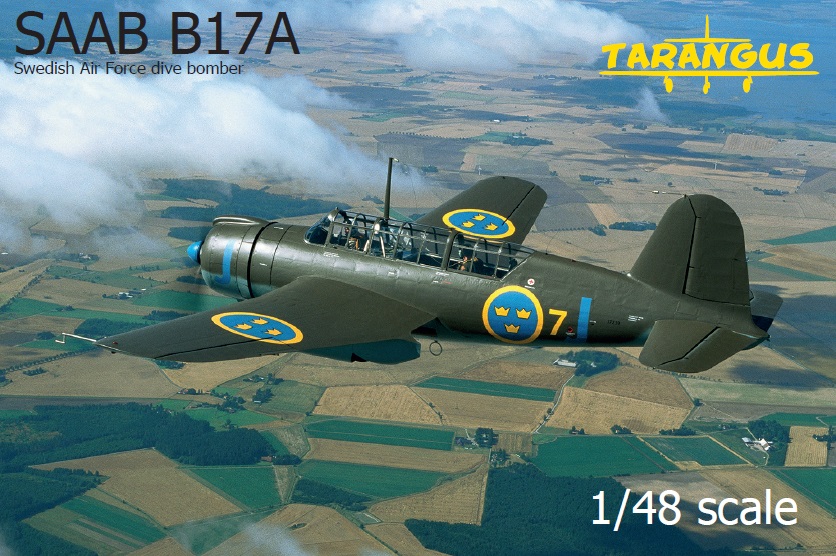 In the early years of the Swedish Air Force, the airplanes used were either purchased abroad or license built types. However, with the founding of the Svenska Aeroplans Aktie Bolaget (SAAB) all this would change.
The first type that Saab designed and built was initially an ASJA (Saab's predecessor) project called the L-10 as a reconnaissance aircraft. When ASJA was merged with Saab, the airplane was named Saab 17. The plane was now also intended as a dive bomber.
As the European continent was thrown into war, the lack of engines forced three different versions of the Saab 17 to be developed; the 17A with Pratt & Whitney Twin Wasp, the 17B with Bristol Mercury XXIV and the 17C with Piaggio P. XIbis R.C.40D. The first prototype flew on May 18 1940 and two years later deliveries commenced.
In the Swedish Air Force it served with the following wings;  as a bomber with F4 at Frösön, F6 at Karlsborg, F7 at Såtenäs and F12 at Kalmar.  The reconnaissance version served with F3 in Linköping and a special version with floats, called the S 17BS, served with F2 in Hägernäs. As the jet age was approaching, the plane was phased out already in 1948. However, it continued to serve as a target tug with several private contractors, among them Svensk Flygtjänst, for another couple of decades.

The Saab 17 was also used by the Ethiopia, Finland and Austria. In Ethiopia, it served until 1968. During the last year of the second world war, a Danish brigade was trained on the Saab 17, but when the war ended these planes weren't of interest to Denmark. Including two prototypes, 325 aircraft were built.

Today, there is only one flying Saab 17, which is operated by the Swedish air force historic flight. It was restored to flying condition by former Saab employees to celebrate Saab's 60th birthday in 1997.  

This historic aircraft, for the Swedish aviation industry and Swedish air force, is for the first time available as a model kit in 1/48 scale. This is a short run kit, with the same high quality which has become a Tarangus feature. Enjoy your build!
TEST